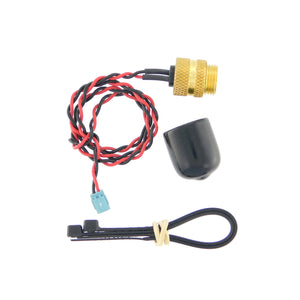 Sight Pin Light, 3/8-32, Ultra-Violet (UV) Output
Ultra-Violet (UV) Output LED in 3/8-32 Threads Brass Holder
Connector Color is Blue
Use to Light Any Fiber Color From "SIDE" of Fiber(s), Most Multi-Pin Sights. 
NOT For Lighting Up Fiber(s) From "END" of Fiber(s). Piped-In Install.
1- 3/8-32 Threads Sight Pin Light, Ultra-Violet (UV) Output
1- Cable Clamp For Securing SPL to a Tapped Hole
1- Rubber Cap For Protecting/Strain Relief of Wires
2- ZIP-Ties
Please Follow Installation Instructions/Warnings Included in Kits, or Available under 

DX/DX2 INFO.
P/N: PLA-332-UV 
For Max Pin Brightness w/ All Fiber Colors, a Piped-In Install is Best.
Piped-In Installs on Some Sights May Require a

 

Custom Installation.
For Piped-In Install, Use LPA p/n: PLA-42813-SP, PLA-42816-SP or PLA-332-HO; (Order Separately).  
Sight Pin Light, 3/8-32, Ultra-Violet (UV) Output