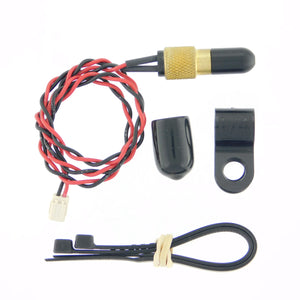 Sight Pin Light, 8-32 Threads, High Output Blue
"CREE" High Output Blue LED in 8-32 Threads Brass Holder. 
Connector Color is Beige.
USE To Light Any Fiber Color From "END" Of Fibers, (Piped In Install). 
USE To Light Any Fiber Color (Except Blue) From "SIDE" of Fiber(s).
1- 8-32 Threads Sight Pin Light, .094" Output Hole
1- 8-32 Threads Nylon Tip with .094" Hole for Tubing
1- Rubber Cap For Protecting/Strain Relief Of Wires
2- ZIP-Ties
Please Follow Installation Instructions/Warnings Included in Kits, or Available under 

DX/DX2 INFO.
P/N: PLA-832-SP
For Max Pin Brightness w/ All Fiber Colors, a Piped-In Install is Best. 
For Blue (w/ or w/o Other) Fiber Colors Lit From "SIDE"; Use (UV) SPL.
LPA (UV) SPL p/n: PLA-832-UV (Order Separately). 
LP light
Great archery light, simple and dependable
Best in the business
Best light on the market in my opinion, plus they use the best fibers on the market!
Lp lights
On time and exactly what i needed.
Thank you!
Love it! Much brighter than my old light
As always great product ⭐️⭐️⭐️⭐️⭐️
Great service and produor.product