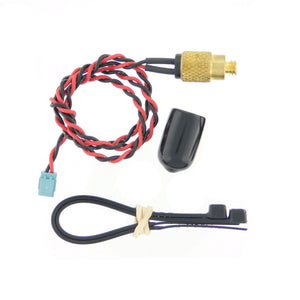 Sight Pin Light, 10-32L Threads, .11" Hole, Ultra-Violet Output
Ultra-Violet (UV) Output LED
10-32 Threads Brass Holder with .11" Output Hole.
Connector Color is Blue.
Use to Light Any Fiber Color From "SIDE" of Fiber(s).
Use to Light Up Fluorescent Dots (on Lenses) or Fluorescent Beads.
NOT for Lighting Fibers From "END" Of Fibers, (Piped-In Install).
1- 10-32 Threads Sight Pin Light, with .11" Output Hole
1- Cable Clamp For Securing SPL to Tapped Hole
1- Rubber Cap For Protecting/Strain Relief Of Wires
2- ZIP-Ties
Please Follow Installation Instructions/Warnings Included in Kits, or Available under 

DX/DX2 INFO.
P/N: PLA-32L-UV 
For Max Pin Brightness with All Fiber Colors, a Piped-In Install is Best.
Piped-In Installs on Some Sights May Require a

 

Custom Installation.
For Piped-In Install, Use LPA p/n: PLA-832-SP (Order Separately).