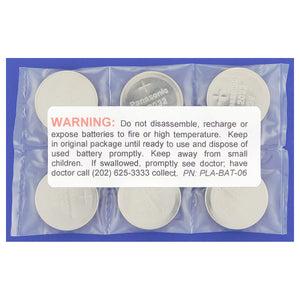 Batteries, 2032 Lithium, 2x 6 Packs
IMPORTANT SHIPPING INFORMATION 
We Follow Current World-Wide Coin-Cell Battery Shipping Regulations.  Battery orders NOT Shipped with a PLDX2 Kit or PLDX2 Power Pack can only be shipped via UPS Ground.  
Battery Orders without a PLDX2 Kit or Power Pack CANNOT be Shipped Via AIR Transportation options.  LPA Products will contact customer via email or phone if order does not comply with Shipping Regulations. 
For Use With LPA DX or DX2 Power/Control Packs 
Panasonic Brand, Lithium Batteries, High mAh (Long Lasting)
Packaged for Easy Carry and Use
THESE ARE NOT A RECHARGEABLE 2032 BATTERY 
PLEASE FOLLOW ALL WARNINGS INCLUDED 
PLEASE

READ:

 IMPORTANT SHIPPING INFORMATION

P/N: PLA-BAT-12
2-  6-Packs, 2032 Lithium Batteries, High mAh (Long Lasting)
Retired prayers archer
LP Archery lite & batteries are simply the best been using them since inception nothing better period !!
Lance Elledge Order
Could not imagine any better service or professionalism.... Thank You Larry!